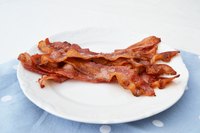 Trading regular bacon for turkey bacon doesn't guarantee you're making your meal healthier, according to "Cooking Light." As with regular pork bacon, turkey bacon can vary quite a bit in the amount of calories, fat and sodium it contains, with some versions having just as much fat as and even more sodium than regular bacon. Reading the labels will help you choose the most nutritious kind, but remember that turkey bacon is a processed meat for occasional consumption only.
Check the Calories
A slice of turkey bacon can weigh anywhere from 1/3 ounce to an ounce, and each ounce of turkey bacon can provide anywhere from 30 to 70 calories, depending on the brand. Regular pork bacon has about 70 calories per ounce, although some cuts of bacon are very fatty and contain more. Others, such as center-cut bacon, tend to be leaner and contain fewer calories per ounce. Look for turkey bacon with the fewest calories per ounce to help minimize the risk of weight gain.
Look at the Fat Content
The healthiest types of turkey bacon contain no saturated fat, but some brands have up to 2 grams per ounce. Choose the brand lowest in total and saturated fat because too much total fat raises your risk for weight gain, and too much saturated fat may increase your chances of developing high cholesterol and heart disease.
Compare the Sodium Content
One of the main drawbacks to many types of turkey bacon is high sodium content -- sometimes more than regular bacon. An ounce of regular bacon has about 130 milligrams of sodium, and the sodium content of the same amount of turkey bacon ranges from about 180 to 360 milligrams. Getting too much sodium in your diet, which is often the case for people living in the United States, can increase your risk for high blood pressure and heart disease.
Check for Nitrates
Read the label and look for uncured bacon, or a bacon with no added sodium nitrates or nitrites. These substances are often used to help cure and preserve the bacon, but they may increase cancer risk. The uncured bacon still contains some nitrates, but in the form of naturally occurring nitrates, such as those from celery powder, which haven't been linked to cancer, according to registered dietitian Tanya Zuckerbrot.