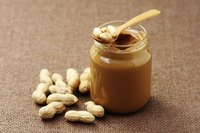 When it comes to cholesterol levels, lifestyle is a major player. Making changes to your diet by including foods like peanut butter can help improve your numbers and your health. Consult your doctor or dietitian about your diet for lowering cholesterol.
High Cholesterol
If your cholesterol levels are high, you're at a greater risk of developing coronary artery disease, which is a condition characterized by the buildup of plaque inside the coronary -- or heart -- arteries. Plaque levels building up too much can decrease or stop the blood flow to your heart, causing a heart attack. Plaque can also build up along other arteries, including those that lead to the brain, which increases risk of stroke.
Lowering your numbers by making lifestyle changes such as following a healthier diet can help slow or stop the buildup of plaque.
Peanut Butter and Cholesterol
Eating peanuts can help to lower cholesterol. A 2010 study published in Public Health Nutrition investigated the effects of adding peanuts -- almost 3 ounces -- to the diet in a group of men with high cholesterol. After four weeks, the researchers reported a decrease in total cholesterol, specifically LDL cholesterol, which is the bad cholesterol.
The Harvard Medical School says that it's the monounsaturated and polyunsaturated fat in the peanuts, which is also in peanut butter, that improves cholesterol.
Diet to Lower Cholesterol
It's not just the fat, though. It's eating the healthy unsaturated fats in place of the saturated fats -- found in butter, bacon and full-fat milk -- that helps lower cholesterol. Keep your intake of saturated fats low, and replace them with healthier fats. In addition to peanut butter, good sources of fat include olive oil, soy oil, walnuts, fatty fish such as salmon and avocados.
You also want to eat plenty of colorful fruits and vegetables and change your refined grains to whole grains to improve cholesterol levels. The fiber in these foods also helps lower your cholesterol.
Tips for Adding Peanut Butter
To get the most benefits, eat natural peanut butter that doesn't have any added sugar or hydrogenated oils -- which are trans fats that also raise cholesterol levels.
You also want to watch your portions. Calories count when trying to improve heart health and cholesterol. Two tablespoons of smooth peanut butter has 190 calories. Use peanut butter in place of other protein foods that contain unhealthy fats, such as the cheese for your crackers or meat in your sandwich, and use measuring spoons to keep your portion in check.