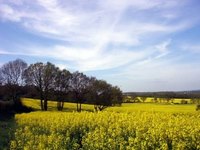 Agricultural communities depend on a variety of businesses, ranging from mining to farming to manufacturing. The challenges of starting an agriculturally related business are finding buyers and employees within a smaller population area, traveling greater distances for supplies and inventory, and finding support services.
Decide on your focus. Agricultural businesses can sell livestock, produce or even wine. Each option has its own list of regulatory requirements from the U.S. Department of Agriculture (USDA). The USDA is also responsible for rural development nationwide. The agency promotes economic development by guaranteeing loans that banks and other small businesses make to agricultural businesses.
Contact your state's department of revenue. Each state has its own set of business and tax requirements regarding agricultural businesses. These agencies also may offer funding opportunities.
Develop a business plan. Because weather and increased transportation costs are primary considerations for most agricultural businesses, be sure to address mitigation and cost-reduction strategies in your financial forecast.
Start a mini agri-business as a way of doing a "feasibility study." Whatever your idea is, start a small version of it. If you want to sell rabbits, try renting space in a barn before buying your own facility. If you want to sell corn, start with a small crop and find buyers for this crop before expanding. If you want to start a greenhouse, ask someone who already owns one if you can help manage theirs.
Use business networks and contacts you made during Step 4 to find support services and potential employees. Contact your local labor or unemployment office for guidance.
Understand product pricing. Many agricultural businesses sell commodities, that is, products that are raw or primary; these commodities often are traded on an open exchange. If this is the case, you can determine pricing for your product by looking at the current market rate. Commodities also will have a future market rate, sold as options. Buyers needing raw goods can purchase them at a set price in the future.
Develop an accounting system specific to agricultural cycles and trends. Don't underestimate the need for a sound accounting/bookkeeping system. Software such as QuickBooks may include a specific module for agricultural and farm-related businesses.