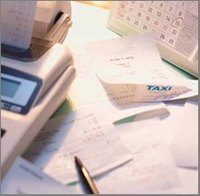 The Internal Revenue Service, or IRS, assesses tax on corporations engaging in business within the borders of the United States. The IRS requires you to keep accounting records and to file an annual corporate income tax return, which is used to determine your corporation's tax liability. The due date of your corporate income tax return is March 15th every year, unless you file an automatic six-month extension.
Things You'll Need
Accounting records for your company
Blank tax return and instructions from the IRS or tax preparation software
Know which type of tax return your company must file. There are several types of corporate tax returns and the IRS will only accept the correct one. Common corporate tax returns include form 1120 for standard corporations, form 1120S for s-corporations and form 1120F for foreign corporations. You can download a copy of a blank tax return from the IRS.
You can prepare your tax return manually or with the assistance of software. Manual preparation necessitates the use of IRS instructions. Tax preparation software includes instructions within the program. The instructions for your corporate tax return show the changes on the form from the prior year. Each line item of the tax return is also explained in detail with references to other forms or schedules where deemed necessary.
Review your year-end accounting records. Calendar year filers use December 31st as the last day of the year and fiscal year filers use the last day of the IRS approved fiscal year. Make your closing entries including adjusting entries for depreciation and amortization. Produce a year-end profit and loss, or P&L, and a balance sheet as of the last day of your year. Your tax return is composed of the P&L and balance sheet data.
Use your P&L and transpose each line into its respective place in the tax return. The P&L related entries are located primarily within the first four pages of the tax return. The balance sheet line details are located on page five. Some of the P&L and balance sheet entries require supporting schedules or statements that follow the first five pages of data. Free assistance is available on the IRS business tax line.
Sign, date and place your title in the appropriate boxes at the bottom of page one. If you pay a preparer, the preparer must complete their portion of the signature section. The IRS does not accept tax returns if the necessary signatures, dates and titles are not included. Send your tax return via mail or E-File. Tax returns submitted by mail should be sent via certified mail for proof of submission date. Electronic filers must receive an acknowledgment from the IRS before the tax return submission is complete. If you owe additional tax, make sure to either include your payment with the tax return or to make a payment online with the Electronic Federal Tax Payment System, or EFTPS.