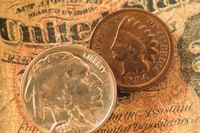 No matter the date of issue, U.S. currency is always legal tender, according to the Federal Reserve Bank of Richmond. This doesn't always mean you can spend old currency, because stores and merchants don't have to accept them. If you have a stash of old bank notes or some damaged ones, you may have problems using them. Depending on their condition, you may be able to change them for new notes, although some old or rare bank notes may be worth more if you sell them to collectors.
Check if your notes are rare or have a collectible value by talking to collectors or researching collectible websites. Don't assume that notes have to be really old to be worth selling. According to CoinSite.com, a 1999 $1 bill has a value of between $1.25 to $3, depending on its type and condition. Sites such as CoolSerialNumbers.com trade in notes with odd serial number ranges and combinations.
Go to your bank if your notes are not worth more than face value or are damaged. If the bank can identify the value of a damaged note, it should exchange it for a new one. If it can't verify a note, or if you have less than half a bill, it may refuse to change it.
Check with the U.S. Treasury's Bureau of Engraving and Printing. Its Mutilated Currency Division runs a free service that assesses damaged notes and pays you face value if it can verify them. This applies even if you have less than 50 percent of a note, as long as you prove to the Treasury that missing parts have been destroyed. You can call or email the service if you want advice before sending in your notes.
Mail your old notes to the Mutilated Currency Division. If you send your notes by USPS, the mailing address as of 2014 is: The Bureau of Engraving & Printing, MCD/OFM, Room 344A, P.O. Box 37048, Washington, DC 20013. If you use a courier service, send your notes to: The Bureau of Engraving & Printing, MCD/OFM, Room 344A, 14th and C Streets SW, Washington, DC 20228. If you are in Washington, you can deliver your notes to the 14th and C Streets address. Include a letter in your application outlining the notes' value and the cause of the damage. Give your banking details for electronic funds transfers or your name and mailing address for check payments.