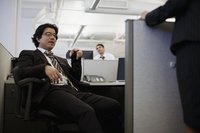 Managers facilitate employee work performance using an ongoing process of creating goals, providing coaching and feedback, appraising performance and furnishing rewards. Each manager uses her own methods to complete a performance management process. Working with your manager, you can pay close attention to your goals, learn the tools and resources at your disposal to improve your performance and execute your tasks. Use a personal strategy for achieving performance goals.
Things You'll Need
Review Your Goals
Study your position description and performance appraisal documents. Look for a list of measurable goals and critical job standards. Your boss might also set personal goals for you in a one-on-one meeting.
Request a meeting with your boss to clarify goals that you don't understand. Ask for individual goals so you will not be measured only by team performance.
Create a short list of goals and post it in your work area or on a computer or mobile electronic device.
Understand Your Performance Environment
Evaluate whether your individual goals will be based on measurable outputs or on your manager's perceptions of your work.
Focus a good portion your efforts on measurable goals because you need strong performance in these areas to get a good evaluation. Be honest in how you report work outputs, and avoid exaggerating them to look like a high performer.
Pay close attention to training materials and make notes wherever you can. The information that you get bombarded with in the first few weeks will be important later for achieving performance goals.
Execute your goals, which requires applying your best judgement and abilities and completing all assigned tasks.
Keep track of your work performance, accomplishments and challenges in a journal throughout the performance evaluation period. Provide a summary of your performance to the manager before she writes your evaluation.
Get Feedback
Request a meeting for the manager to observe your work in action. Listen to the manager's corrective feedback, taking notes as needed.
Revisit your goals at least once a week. Self-monitor whether you're achieving them, even if you are just meeting milestones along the way.
Ask your manager to help you break down complex goals into smaller milestones.