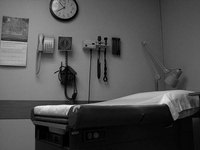 A patient health care interview is usually done in the privacy of a small room and before seeing a physician or health care practitioner. The interview is also referred to as a health history, and is usually the first part of a scheduled appointment. Most health care interviews are conducted by nurses or trained technicians or medical assistants, but may be performed by the doctor, depending on the practice. Many medical offices use electronic medical records, called EMR, to conduct patient interviews. Also referred to as personal health records, or PHR, the interview information is entered into a computer program designed for gathering and streamlining patient information during a health history interview.
Gather your tools. In most medical settings, this includes a pen, patient forms, office policy, privacy information and computer access. If the interview process includes taking blood pressure, listening to the heart or lungs or other diagnostic tests, you may need to have a stethoscope, blood pressure cuff or other similar type of diagnostic tools.
Some offices have computer stations in each room, others have tablet-type computers that allow you to carry the computer with you from room to room and patient to patient.
Introduce yourself upon entering the room and state your role. Clarifying your position helps the patient understand why you are there and also differentiates between doctors, nurses, medical assistants and nurse practitioners.
Many practices have you begin by verifying the patient's name and birth date to ensure you have the correct file and patient.
Whether recording the interview on paper or into a computer, it is important to make eye contact with the patient and look up at him while he answers any questions you ask. The reason for this is two-fold: You can be sure he has heard the question properly and you also give him the consideration and empathy. By doing this you can make the patient more comfortable and be more effective in gathering information.
Update the patient's history if she is an established patient or go over her information if she is new. In a medical practice, the patient's personal health history is usually done by recording and updating the patient's medical history.
Any previous illnesses and predisposition to medical conditions that may be relevant based on the patient's family should be noted. Prior surgeries are usually noted too.
The interview will almost always include a current list of medications. This is necessary to help understand the patient's current health status as well as any drug-related symptoms or possible drug interactions. Most doctors also want to know which vitamin and herbal supplements a patient is taking because these can cause symptoms and interact and interfere with medications.
Be sure to spell each medication out loud to verify you have heard the right medicine. Record the amount, dosage, frequency and time of day medicine is taken. Some patients carry with them a list of their medicines. It is helpful to review with them, but be sure to go over each item and make sure the list is current.
If you take blood pressure or listen to the heart or lungs, this is usually a good time to conduct the tests and record results.
Ask for the reason for the patient's visit. Use open-ended questions, such as "Give me an example" or "Describe your symptoms" to elicit informed responses and record the answers in the patient's words. If using a drop-down menu in patient software on a computer, be sure to find the exact item that fits the patient's response or add detailed notes to this section if the exact item is not listed.
Review the patient's information and the reason the patient is in the office to see the health care practitioner. This can be done as a way to politely end the interview as well as clarify information.