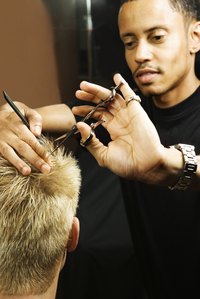 In difficult economic times, it can be hard to allow yourself what might seem like a luxury: a good haircut. You might let your hair grow or try cutting it yourself, but there's no need to go to extremes. There are options for finding cheap or even free trims.
Find a local beauty school in your area. Local cosmetology schools hand out free haircuts and discounted services in exchange for your participation in helping students learn. You might shy away from what you see as inexperienced staff, but the students have had experience in styling, coloring and cutting hair on dummy dolls before they start on people. Visit an online beauty school directory to help find one near you (see Resources).
Check local salons to see what discounts are available. Even high-end salons sometimes offer free services when they are testing new products and haircuts.
Donate your hair to get a free haircut. Check with a salon to see if it offers free haircuts to anyone willing to provide hair to a charity like Locks of Love. Locks of Love provides hairpieces to children in the United States and Canada who suffer from long-term medical hair loss. Great Clips, for example, offers such a service.
Look on Craigslist for cosmetologists offering free cuts. They typically are looking to practice a particular style at any given time, so you'll have to be open to that style and the time frame they set.