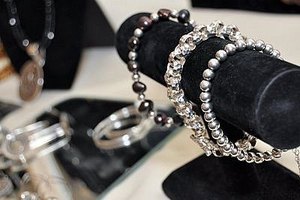 Oh great, your friend or coworker has just asked you to hold a Silpada party and dangled free jewelry in your face. If you are not a jewelry fan, you are bewildered at best, but hang on, it's not that difficult or expensive.
Silpada is a line of jewelry, featuring sterling silver designs. The business format is home parties and selling to those you know and the people at their workplaces and in neighborhoods. You could also get really creative and hold a fundraiser using Silpada jewelry. This article will give you some steps as to how to have a Silpada jewelry party.
Things You'll Need
Silpada Representative

Silpada Jewelry
Gather your address book, email list, directories, rolodex, business associates list, PDA and cell phone contacts.

Make a list of all the friends and family you know. Yes, Silpada even sells to men! Write this list in a notebook or type it in Microsoft Word on the computer, then save or print out.

Have your Silpada representative email or send you invitations either in Microsoft word as an email attachment or the cardboard postcards Silpada makes. If you use postcards, you will need labels or help filling in the information in all the fields.

Ask the Silpada Representative to borrow her jewelry collection for the party you will have. Invite her to attend also if she is available so she can assist, demonstrate jewelry and take orders.

Determine where and when you would like to hold your Silpada demonstration. If the thought of cleaning sends you into full panic mode, consider calling local restaurants, clubs or bars to see if they have a free room you can use. Do not forget to inquire if food purchase is mandatory.

Gather all of your addresses from step 1 and the completed invitations and send. Send as many via email attachment as possible to save money on postage. Postage can add up quickly and eat up your profits!

Keep your list handy for when guests RSVP. Always offer the website or a catalog as an alternative to attending. Orders will still count for you and your Silpada Representative.

The day of the party, set out the jewelry in trays and let your guests look at the jewelry and the catalog at their own pace.

Have a party online or via catalog if you are not able to conduct one in person. Allow 1-2 weeks for potential buyers to browse the catalog and website. Have the Silpada representative's website and contact information handy in case guests would like to order.

What a good friend/coworker you are! And you have earned some free jewelry in the process without any taxes or shipping charges.
Tips & Warnings
Offer door prizes and giveaways if a guest brings another guest
Offer incentives to have a party of their own
Dress neatly for the occasion and be prepared to model jewelry
Have munchies and drinks for your guests
Allow about two hours
Photo Credit http://3.bp.blogspot.com/_CxWvOvV2iL8/SgCPG8KJF0I/AAAAAAAACjM/5kN8QVfAxpw/s400/Silpada+de+Mayo-7.jpg
Promoted By Zergnet