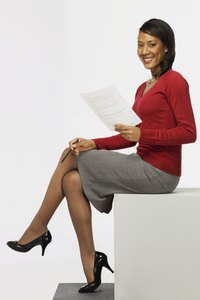 A job-getting resume is key to ending your job search. Spend time crafting an outstanding resume that compels recruiters and hiring managers to want to know more about you and your talent. Showcase your expertise, qualifications and experience in a manner that says you're giving as much information as you can in a short document, but that you want the chance to articulate why you're the best candidate for the job in a face-to-face interview.
Research university career web pages for resume formats to determine the type best suited for you -- functional, chronological or a combination of the two. A functional resume is useful for longtime workers with substantial work experience because it focuses on professional competencies instead of chronicling a long career path. A chronological format lists work experience in reverse order from the most recent to the earliest job. Creating a blended functional-chronological format is useful for some job seekers, but using this type of format could leave you with a resume that looks too cluttered.
Draft an introduction. An introduction contains two to three sentences about your qualifications, background and interest. If you have a remarkable reputation in your field, mention it. For example: "Award-winning, nationally acclaimed writer with 20-plus years in technical writing for the healthcare industry. Graduate degree in international communication; fluent in English, Spanish and German. Looking to join a multinational organization that values innovative communication, creativity and commitment. Available for relocation anywhere in the U.S., the EU or LATAM."
Create a table for your areas of expertise to place near the middle of your resume; its placement draws the reader's eye to one- and two-word areas where you excel, such as technical writing, healthcare industry or Web development. Use your word-processing program to execute the steps for a table made of three columns and three to four rows. That gives you nine to 12 spaces for your areas of expertise. Don't put your core competencies or professional traits in the section for areas of expertise. Areas of expertise are functional competencies such as an industry, a skill set or competency that uniquely qualifies you for the job you want.
Replace full sentences in your resume with brief, fragmented sentences that get right to the point of your job experience and expertise. Professional resume writers advise against using grammatically correct, full sentences. Your resume contains short descriptions -- it's not an essay or narrative life story. Certified professional resume writer Deborah Schuster says, "Fragmented sentences are correct in a resume." She doesn't include subjects in any of the resumes she produces for clients.
Get a list of action verbs. Boston College publishes an extensive list of verbs categorized into management, research, detail-oriented and teaching skills. Keep a list like this beside you as you compose descriptions for your jobs or your professional competencies. Avoid repeating the same often-used verbs, such as "managed," "monitored," or "reviewed." Be creative with words to wow the recruiter.
Put down the resume and pick it up the next day. Give your eyes a rest and review your resume with a fresh and rested perspective. Ensure that your resume is free from spelling or typographical errors -- that's one avoidable reason resumes get tossed aside by recruiters. Resumes that contain errors don't demonstrate an attention to detail from the job seeker.
Connect your resume to an online profile for a more extensive representation of your skills. Another presentation-related tip for resumes is preparing hard copies to hand to prospective employers. Spend a little extra to have your resume professionally typeset or copied onto impressive resume stock.