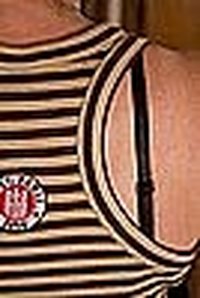 Fabric tape is the simple yet ingenious solution for bra straps that won't stay put, stopping those itchy garment tags from driving you crazy, a quick hem repair job and more. Carry sticky fabric tape in your purse; you never know when you'll need it.
Keep your strapless bra in place with fabric tape. Just peel off the backing from either side of the sticky tape and press it to the inside of your strapless bra. Peel the backing from the other side and press against your skin. No worries -- your bra will stay put! This is also handy for keeping bra straps from slipping off your shoulders.
Shirt and bra fabrics are sometimes inappropriately thin and can be an embarrassment at the office or social functions. Fabric tape is the best solution for these times as well. It only takes a moment to press the tape between your skin and bra.
Preventing blouse gaps with fashion tape sure beats safety pins! Trim the tape with scissors to desired size and press to close the gap.
Press fabric tape inside the hem of your dress that has come "undone" while away from home -- an easy, quick fix!
Cover those garment tags with fabric tape to stop the annoying itch.