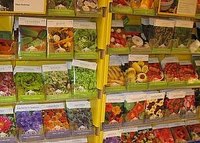 New gardeners and avid gardeners alike enjoy receiving seed catalogues in the mail. Several good old time reliable seed companies still continue to send free seed catalogs in the mail even though they all have websites and online ordering.
Things You'll Need
Computer and online website access
Garden magazines with ads for seed companies
Post box or mailing address
To get free flower and vegetable seed catalogs go to the websites of the following seed companies. The website links are listed below under additional resources on this page.
Once you are on the website for each seed company, look on the page for the word catalog or free catalog in the indexes. Click on it to bring up the next page for ordering catalogs.
On the site page, for signing up for a free catalog that will be mailed to your home. fill out your mailing address and other information and send to the seed company. Soon you will receive a beautiful high glossy photo catalog of all kinds of flower and vegetable seeds and gardening equipment to browse through and enjoy.