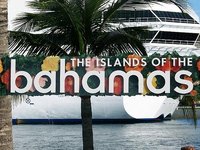 If anyone has visited Nassau, Bahamas, while visiting there via a Cruise Ship, will most likely tell you that the shore excursion they took that the cruise line offered, ended up being more than it was worth compared to doing the visit on your own.
The first time we visited Nassau, Bahamas, it was very costly for us, compared to the other times we had visited and did about the same thing for a fraction of the cost.
I'm not telling anyone to avoid a shore excursion through the Cruise line by any means. Shore excursions through the cruise line will guarantee you that the ship will wait for you if for some reason the excursion doesn't get you back to the ship in time. Doing it on your own, will not, so it does involve some planning. Here's a few tips below.
Things You'll Need
Shorts / Summer clothing
comfortable shoes
maybe a bottle of water (even though they sell it on the island)
camera.... a must
Get off the ship early as possible. This will allow you to have time to enjoy Nassau without being rushed.
When entering the Marketplace, go to the left and get tickets for the water taxi. ($6.00 per person round trip, or $3.00 per person one way) This taxi will take you over to Paradise Island where you can visit the beautiful Atlantis resort. The water taxi is the best way to get there, because the view of the resort, and the ships at port is a photo that you will have in your mind forever.

You can visit the grounds of Atlantis while in Paradise Island, and if you don't have children with you, you can play some slots at the Casino. The Atlantis resort has large aquariums within their lobby that the children will enjoy. You can purchase "the Dig" ticket to go further in the underground aquariums, however, it's expensive, and truthfully, we found that you don't see any more than what you do by just viewing the fish through the lobby aquariums.
Take your time and visit the beautiful grounds of the Atlantis Resort. It doesn't cost anything, unless you want to go past the designated areas, and go swimming in their pools.
Slow down a pace, and visit the shops, and rest on the way back to the water taxi. Maybe even grab a bite to eat or a drink along the way.
Walk back (short distance) to your water taxi area, and it will take you back to Nassau where you first began. Took us about 3 hours, cost was approximately $12.00 for one couple. We took a bottle of water from the ship with us, and chose to eat when we arrived back on the ship. The first time we visited Atlantis, we took a shore excursion to Atlantis, booked through the cruise line, and the cost was $70.00 a couple.