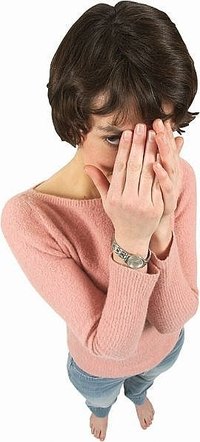 A flushed face may seem endearing for some people to witness. For the person blushing, it can sometimes cause much embarrassment. Blushing is a completely normal human reaction but it can be a problem for people who blush all the time. When people blush excessively and at random times, it can cause them to fear the act of blushing. This is called erythrophobia.
Here's how to stop a flushed face from ruining your day (or week if you dwell on it)!
Understand The first step to stopping yourself from blushing is to understand why he blushed. There are many different reasons I people turn red in front of others. This can range from medical conditions such as rosacea or problems with anxiety in shyness. If you suffer from rosacea, you can get medication from your doctor. If you have anxiety which makes your blushing works, use the following techniques to stop a flushed face.
Self Treatments There are many different self techniques that you can use to stop yourself from blushing in front of IPO. One of the most common techniques is self hypnosis. Hypnosis can be performed by hypnotherapists but it can also be performed at home. Another important technique to learn is meditation. By learning how to relax you able to control your emotions and stop a flushed face before you begin to blush. Yet another solution is to learn the act of diaphragmatic breathing. This is a simple method where you breath using your diaphragm and breathe slowly. You take in air through your nose, and breathe out to your mouth. You also want to watch the amount of alcohol that you drink. Alcohol tends to increase blushing.
Therapy There are different therapies that you can undergo to help with your anxiety and fear of a flushed face. One such technique is called CBT - Cognitive Behavioral Therapy. This works to help reprogram your way of thinking and perceiving dangers. In this instance it would be the fear of blushing in front of others. Another technique is NLP - Neuro-Linguistic Programming. This form of teaching works to help you gain and eliminate certain behaviors. Therapists can be found around the world and you can also take classes yourself to learn NLP.