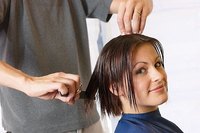 There are a hundred and million ways you can cut back and have a healthier budget. The price for beauty can ultimately take up a healthy lump sum of money, but there are a few ways to cut back on hair salon cost. Here's how!
Go to craigslist and search under the "Free" section or simply type in free hair cut or free hair services under the search tool. There you will see a listing of all available professional salons that are seeking people to work their talents on. Many of these stylists seek out models to add to their repertoire and portfolio's. Establish EARY ON the limitations or reservations that you have about a particular style or cut. This is critical.

Become a hair model. Again, take a look at craiglist under their Talent or Creative Tabs. You can find several listing depending on the area, or hair companies and salons seeking models, either professional or non profession, to model their hairstyles are major hair shows and conventions. Unlike the above, these models get paid and in most instances, paid very well to walk in a show. If you decide to attend a model call or audition, please tell the stylist up front what your limitations are in beginning to clear up any discrepancies before they considering choosing you. If you decide to make hair modeling a side job, know that you must be in the business of keeping healthy hair a priority in order to get continual work.

Utilize coupons found in the local paper/coupon booklet that offer free hair services at major stores like JCPenny's on down to your local neighborhood salon. Check out the link below to view more coupons for hair services as well.