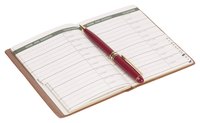 Many shoppers like to compare grocery prices over a time period to determine when a product is at its lowest price point. Some like to have a handy list to compare when they go shopping at different stores. For example, if they are buying peanut butter, they may want to know that its typically $1.99 at their favorite store, while its $2.30 at the store they are currently shopping. Having that reference guide helps the buyer to take advantage of sales and determine which stores are the best to shop at in the long run.
Note the layout of your address book. Most have tabs for each letter of the alphabet. Under each letter, many have a place for a name, address, and telephone number. Instead of using those lines for their original purpose, reform them to fit your needs.
Write down the names of your most purchased items under their appropriate alphabetical heading in the "name" line of the entry. Place apples, for example, under A and peanut butter under P.
Begin tracking your grocery prices as you shop. Take your address book and pen along with you while shopping. Write the price and the date under the appropriate name listing. Add the store name if you shop multiple stores.