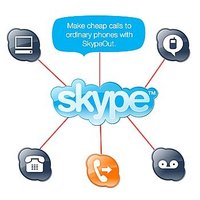 Most people trying to cut cost on their online business or small business. I'm here to show you how to spend practically nothing and get a whole bunch of amazing business features.
Things You'll Need
Get Skype, this program is FREE, so don't complain. You can download it on Skype.com
Get a Skype Phone. Either that or use Skype on you iPhone or Blueberry. Skype can be used on several other phones as well, you just have to check which phones can handle the software on their website. http://skypephones.ecrater.com/ has very cheap and wide selection & uses google checkout.

Once the program is setup you can already start making free calls between your co-workers as long as they have skype too. You can use the conference call feature to talk to more than one employee, or use the video chat to make the conversation more personal. You can even do screen sharing to show them tricks on your computer.
If your ready to call possible clients/customers your going to need to get skype-phone service. If your trying to just talk in America & Canada it will only cost ya $2.95/mnth. Pretty Cheap!!!
If you want to take the next step and look even more professional i suggest you purchase a skype number. To keep it, your going to need to throw down an extra $11.95/mnth. No to shabby