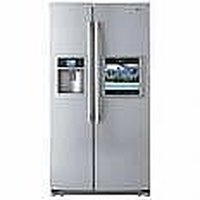 Has your freezer started to rise in temperature, and then did this move to your fridge so that both your temps were off? Well then, read on... From my simple instructions, you will find the best way to fix your fridge for the lowest price.
Things You'll Need
time

internet

ability to type
phone

ability to negotiate

check or money
Well, you just went shopping and bought a whole bunch of frozen foods from Costco and you realize that your ice cream is beginning to melt. You look at the temperature and see that it has risen to 2 degrees. Every time you fix the settings and shut the door it goes right from 0 to 2 in a flash. You realize that you have a problem here.

Since you do not want to have your food go to waste time if of the essence. At this point even your fridge may begin to fluctuate in temperature. Still haste makes waste. Thus begin your research by typing your fridge problem symptoms in the google box.

Once you have an idea as to what the problem is try looking for parts at discount part supply stores online. See how much the parts cost. Also review five to six sites that offer fridge fixing. If there are no reviews, pick up the phone.

Call five to six places and describe your problem. Ask nonchanlantly what the professionals think the problem may be and add what you think it is. Some professionals will tell you right away, some won't because they are just the appointment setters. Do not assume that the company that makes your fridge offers the best deals, quite often they don't..in fact for my fridge which is a GE Profile Arctica, GE wanted $99 up front as a diagnostic fee.

Jot notes down as to what is good about each company and don't be afraid to negotiate. For example one company I called told me that there is a $45 fee to come check the problem (Most companies all waive the inital fee if they do the repair). When I seemed disinterested they quickly dropped the fee to $35. I told them I will get back to them. Then called other places. I found a place with a $25 checking fee, however this place did not offer an immediate fix. The part depending on what it is may have taken weeks to come. Thus, I went with the company with the $35 fee because of a few factors: They carried the parts on the truck so no waiting, they did the job on the day.

Since I knew what to expect with regards to part costs I expected to pay $419 for the motherboard and $100 for labor. Suprisingly, my fridge was fixed quickly and cost a total of $357. Thus it was cheaper than my estimate and I was pleased. As a result of my preliminary research, I was able to save $162, get my fridge fixed on the day and was able to save all my food. Good luck to you and use these tips to your advantage.
Tips & Warnings
Check around!
Cheaper doesn't necessarily mean better, sometimes bigger companies have the ability to buy in bulk and thus can offer cheaper prices as a total.
Compare prices.
I cannot be liable for any damages.
Photo Credit http://images.google.com/imgres?imgurl=http://www.tvsnob.com/archives/images/lg_hdtv_fridge.jpg&imgrefurl=http://www.tvsnob.com/archives/2007_05.php&usg=__gdG2ZnmgtRMRNvUVvxZ9BKW6BsQ=&h=300&w=300&sz=6
Promoted By Zergnet