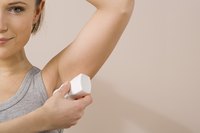 Many products on the market claim they can neutralize excessive armpit odor, but they may be hard on your wallet and contain harsh chemicals you don't want on your skin. So try some natural remedies if you have a problem with excessive sweating. You may also be able to reduce odors by altering your diet -- for instance, by not eating red meat, onions and garlic and reducing your caffeine intake.
Things You'll Need
Purchase a lime and cut it in half. Use a key lime, preferably one that is not quite ripe yet.
Make certain that you have no cuts in your skin in your armpit area; otherwise it can be painful.
Rub each half under your arms. The citric acid in the limes can whiten the skin under your arms, but this is normal, and is not a sign of any problem. Let the juice absorb into your skin; do not wipe it off.
Use apple cider vinegar on your armpits after you have used the lime. Apply the apple cider vinegar to your armpits and let the vinegar absorb into your skin; do not wipe it away. The high acidity levels in the vinegar will neutralize the bacteria in your armpit that causes odors.
Apply baking soda to your dry underarms. This will kill bacteria and help absorb perspiration during the day.