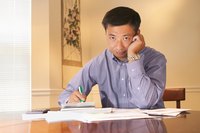 Losing a job is traumatic, and you might be concerned about paying your mortgage while you look for work. There are several programs that can help you keep your home, including lender-based programs and emergency assistance from public and private social services agencies.
Federal Programs for the Unemployed
The federal Home Affordable Unemployment Program assists unemployed homeowners by reducing mortgage payments to as little as 31 percent of a homeowner's income or by suspending payments for a year. This program is for individuals who have not previously received a mortgage modification through the home affordable program. In addition, you must have received your mortgage on or before January 1, 2009 to qualify for this program. MakingHomeAffordable.gov advises homeowners to either contact their lenders or call a housing counselor at 888-995-HOPE to find out if they are eligible for assistance.
Freddie Mac or Fannie Mae Serviced Loans
If Freddie Mac or Fannie Mae holds your mortgage loan, you may qualify for an unemployment forbearance. Contact your lender directly to find out about these programs. If you are unsure whether either Fannie Mae or Freddie Mac holds your loan, use the loan look-up tools available on each agency's website.
State Assistance Programs
Some states, such as Pennsylvania and North Carolina, sponsor assistance programs for distressed homeowners. You may qualify for a short term loan that will help you pay your mortgage. The services offered by these programs vary by state, so contact your state's housing authority for more information.
Housing Counseling
The U.S. Department of Housing and Urban Development certifies housing counselors who can help you avoid foreclosure and work with your lender. HUD-certified counselors offer their services for free or at low cost through social service agencies. If you are in danger of losing your home or have difficulty working with your lender, a housing counselor can help you understand your rights and options.
Contact Public and Private Social Service Agencies
Some public and private social service agencies provide emergency assistance with housing payments. While you may only qualify for a one-time mortgage payment, this may be enough to give you time to find a new job, raise more funds or work out an arrangement with your lender. In addition, you may also qualify for other forms of assistance, such as food stamps or utility bill payments, which can free up cash that you can use to pay your mortgage.
Request Employer Assistance
If a member of your household is still employed, he may be eligible for assistance from his employer. Some employers manage assistance funds that provide small grants to employees who have an emergency financial need. In addition, many companies offer employee assistance programs that connect employees with financial counselors who may be able to assist your family with budgeting and working with your lender. The employed family member should speak to a human resources representative to learn whether he is eligible for assistance.