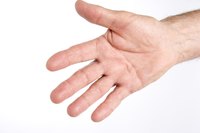 Sweaty palms can be inconvenient and embarrassing, especially when you have to shake hands with someone. Soaking your hands in brewed tea, however, is a popular home remedy that can assist in preventing or reducing sweaty palms. The tannic acid in tea has astringent properties that help close the sweat glands.
Things You'll Need
4 tea bags
Bowl or basin big enough for soaking your hands
Fill a pan with 1 qt. water. Heat until water boils.
Toss four tea bags into a bowl or basin. Pour the boiling water over the tea bags. Let the tea steep for 10 to 15 minutes.
Test to make sure the tea isn't too hot. Place your hands in the tea and let them soak for 20 to 30 minutes. Remove your hands and dry.
Repeat Steps 1 to 3 every night for a week. Soak hands more often if sweating palms need further treatment.