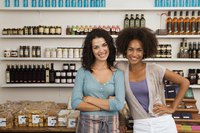 Perhaps you have just started a business and want to introduce your product to potential customers or you have been in business for years and want to court new clientele while connecting with your loyal fans. An open house is an economical, effective, and fun way to present your line and recruit clients.
Things You'll Need
Master list of everyone you know
Email addresses and phone numbers
Tables and display articles
Light snacks
Make a list. Begin by writing down everyone you know. Pull from your client or customer list or database, former or present job, business association, social networks, family, neighbors and friends.
Set a date. After looking over your list, decide if an evening or weekend date is best for the majority of people. Plan on three hours for the open house. This gives people a good window of time to come. Consider creating a theme for your open house to get people thinking about related needs, or tie it to a holiday season, when more people will be in a shopping mood.
Send out and post flyers. Create an attractive, simple flyer telling about your open house. Include information about your products or services. Include directions to your business. Display it on the door of your business so walk-ins will be aware and ask members of your business association to do the same.
Get social. In addition to emailing your customer list, family and friends, advertise the open house on the social networks to which you belong. This will cut down on mailing costs and has the potential of reaching more people.
Call everyone. It will take time, but the follow-up phone call is crucial. Many people do not RSVP, so it's important to call to remind them so you can plan accordingly.
Plan light snacks and beverages. Keep the snacks simple, and don't make food the focus of the open house -- unless that is your business.