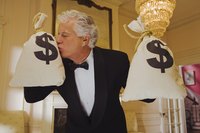 A solid list of dividend-paying stocks is key to creating a diverse and hopefully profitable portfolio that will produce an income stream. According to "USA Today" financial writer Matt Krantz, "There are many asset classes investors can turn to that generate income. However, for many investors, dividend-paying stocks remain a top choice." Krantz' reasoning is simple, stocks that pay dividend guarantee a cash payments on a scheduled basis.
Run a detail screen using a free online tool in order to create a list of dividend paying stocks. Start with your online broker to see if it offers any tools as part of your account. There are also some very reputable financial websites that have usable stock screen tools, such as Yahoo! Finance, "The Wall Street Journal's" MarketWatch.com and Morningstar.com. Remember to supply criteria when running your search to include dividend yield information, along with any other financial data requirements you may have.
Navigate to StandardandPoors.com. Click on the "S&P 500 Dividend Aristocrats" link under the S&P Indices heading on the Home page. Click on the "Download Index Data," then "Index Constituents." Sign up for an S&P user account and download the list. This particular listing includes high-quality dividend-producing stocks. Each stock is carefully screened to ensure that each company has had a solid history of consistently raising their dividends year over year. Standard & Poor's produces several dividend-paying stock lists.
Visit financial blogs and websites specializing in dividend producing stocks. Many of these sites will post a list of dividend stocks they own or that are on their watch list. Look for a website that also provides in-depth quality analysis of stock dividends, but be wary of any blog or website that is not authored by a financial expert.
Search for published lists of dividend stocks online provided by reputable analysts. While you shouldn't take everything they might say as the absolute truth, it is a place to start. Keep these lists handy and cross-reference them if you have more than one with your other lists to find consistent securities.