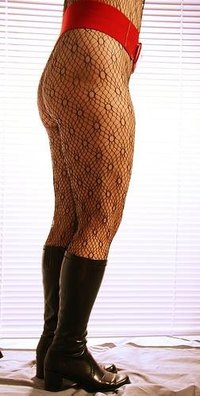 A crotchless body stocking is a full-body lingerie creation that fully reveals the pubic area. They are mostly sold in adult lingerie shops. They're a secret that no one needs to know about because they can hide underneath the most basic outfit.
Pick a bodice style that suits the occasion. A strapless stocking will work for simple bedroom fun, while a tank or camisole design will work better for layering.
Choose the desired fabric for the body stocking. Leading designers such as Leg Avenue and Elegant Moments manufacture body stockings in lace, fishnet and solid nylon. Textile is a matter of personal preference, but keep in mind that lace and fishnet can snag on sharp corners and rip more easily than nylon.
Decide on a leg style. Body stockings are made with a one-piece leg, or in a faux-garter style. Garter stockings are interesting, but might not only reveal the crotch, but the whole derriere. Choose according to comfort level.
Select a size. For those that have a long torso or full thighs, it might be best to get a size larger to compensate. Many companies produce crotchless body stockings in both misses and queen size, so make sure to choose the correct size range.
Select a color. Manufacturers create body stockings in black, red, navy, blue and a wide assortment of other shades. Black or nude is good for layering, while the other colors are more functional as boudoir lingerie.