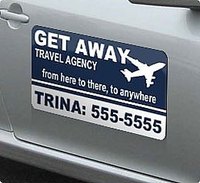 Using car magnets that include your business information on it is a great way to advertise your business around the clock. Magnetic vehicle signs give you the flexible marketing you need at an affordable price - if you don't want promotional magnets on your car while you run errands or drop your kids off at school, you can easily remove them from the vehicle. Custom car magnets are easy to design and produce. Here's how to make car magnets:
Things You'll Need
List the information you want on the car magnets. Here are a few ideas to consider when creating promotional magnets:
• business logo and name • type of business • address • phone number • business hours • services • imagery • website
If you're not a graphic designer, you're better off hiring one or letting a sign company like FastSigns do the graphics work for you (their website is listed in the Resource links below). Give the sign company a sketch of what you want each car magnet to look like so they know what you're looking for. Be sure to give them permission to embellish your promotional magnet ideas - sign companies are the experts so let them do their magic in creating car magnets for you. They will likely use Adobe Photoshop and Adobe Illustrator to make the magnetic vehicle signs. If you don't have a sketch, no sweat. That's what they are there for.
Once you get a mockup of the custom car magnets, show it to everyone who needs to see it before you have the vehicle magnets produced. It's always a good idea to have more than one pair of eyes look at promotional magnets - you may have missed something important that needs to be added or changed.
Have the car magnets produced. If you've hired a graphic designer, they will format the graphic files and send it out for production. Most sign companies can do the graphics and production for you, so they are a great option if you want to get the magnetic vehicle signs produced in one place.