A daily diet that includes at least five servings of fruits and vegetables can help to reduce the risk of heart disease, stroke and some cancers. Eating the recommended number of servings can also help to lower a person's blood pressure. Even though fruits and vegetables are low in calories, high in fiber and packed full of essential vitamins and minerals, some people have trouble developing a taste for these foods. Since it is nearly impossible to replace the nutritional benefits lost by not eating them, it may be necessary to find more palatable ways to add more fruits and veggies into your diet.
Step 1
Try eating different varieties of fruits and vegetables. For some people, it takes time to acquire a taste for certain foods, but eventually you are bound to find something that you like. When you do, eat those fruits and vegetables regularly and gradually increase the quantities you consume. Start by choosing foods that are colorful and smell good. This may help to improve the taste.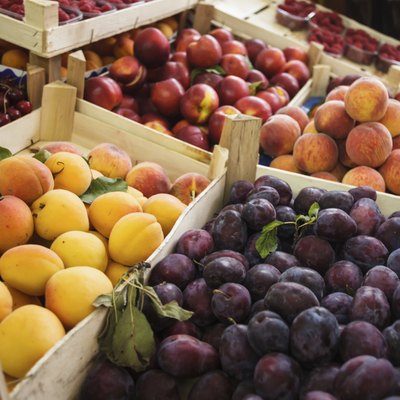 Step 2
Blend vegetables into pasta sauce, or grate into stews to help hide the taste. Roast, steam, grill or barbecue vegetables for a different flavor. Mix chopped or diced vegetables in with rice, pasta or casserole dishes. How you prepare the vegetables may make a difference.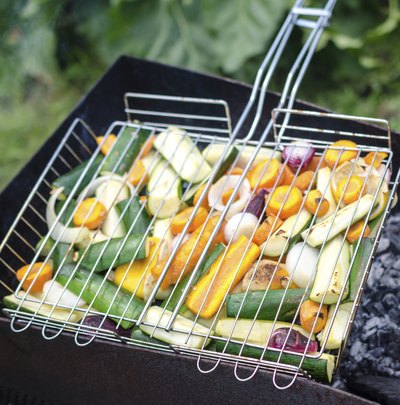 Step 3
Test new recipes, or add fruits and vegetables to some of the foods that you do like. Mix into cottage cheese, yogurt, pancakes, waffle batter and omelets to get more servings of these nutritious foods into your diet. Make a trail mix that includes raisins and other dried fruits, or freeze banana slices and grapes on a wooden skewer for a cool, frozen snack.
Step 4
Drink 100 percent fruit or vegetable juices or blend fruits or vegetables into a smoothie. You may be able to tolerate drinking fresh fruit or vegetable juices better than eating them. Try mixing your fruits and vegetables together in one juice instead of drinking them separately. Juicing allows you to digest these foods more easily. Fresh juices retain more nutrients, while commercially bottled or canned juices are diluted with water and often have sugar added.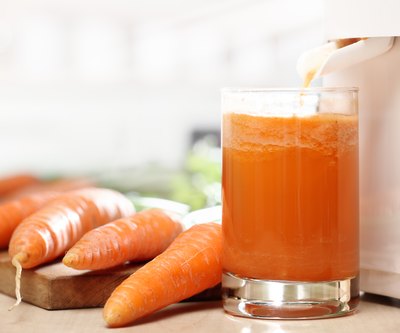 Step 5
Store fruits and vegetables at room temperature for better flavor. Refrigerating fruits and vegetables can prevent them from ripening fully or cause them to lose their flavor. If stored on a countertop away from direct sunlight, fruits will get softer and sweeter.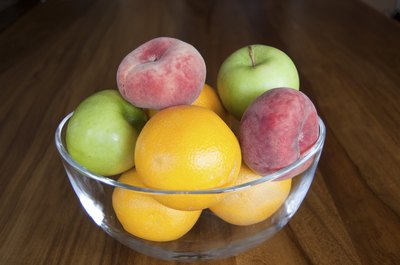 Step 6
Eat nuts. Almost any kind of nut is nutritious. Research suggests that the unsaturated fats in nuts may lower bad cholesterol. Nuts are also rich in heart healthy omega-3 fatty acids. Like fruits and vegetables, nuts contain fiber, vitamin E and plant sterols. The Food and Drug Administration recommends eating a handful of walnuts, pecans, almonds, hazelnuts, pistachios or even peanuts each day to reduce the risk of heart disease (See Reference 3, p. 2.). Nuts should not be salted or covered with sugar or chocolate.
Step 7
Take fruit and vegetable supplements. This can help give people who do not eat fruits and vegetables the same healthy benefits. Supplements are made from dried and dehydrated fruits and vegetables and are available in powder or capsule form. Some supplements are made from juice concentrates. Always talk to your physician first before taking any dietary supplements.