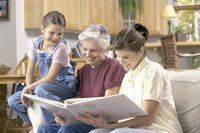 Scrapbooking isn't just a fun hobby that preserves your family's memories. If you find that you're talented at making scrapbooks, you can turn your skill into a home-based business. By hosting retreats and offering your services to others who are less artistically inclined, you can build a thriving business.
Showcase Your Talents
To start a scrapbook business, you need to showcase your talents and let others know that you're an expert in this field. One method is by making your own scrapbooks and displaying them on a blog or on social networking sites like Pinterest or Facebook. Email the editors of scrapbooking magazines with an idea for a guest article, such as a story about a new design you created or an idea for making a special-themed scrapbook. If you get your name out in the public enough, you might develop a fan following that makes it easier to sell your products.
Organize Events and Classes
Host classes and events for people in your community who are interested in scrapbooking. You might need to offer your first event at no charge so you can get the word out about your business. You can host an event in your home or rent a space at a community center or a local church. You might even find a local craft or scrapbook store that's happy to host and promote your event. Teach a class where you show others scrapbooking techniques or where you put together pages with specific holiday or seasonal themes. If you want to be more ambitious, host a scrapbooking weekend retreat. Partner with a small hotel or bed-and-breakfast that offers discounted rates for your guests. Look for a scrapbooking sales consultant or vendor who will bring supplies in exchange for a commission on the sales. This can save time and money.
Make Scrapbooks for Others
Some scrapbooking experts build profitable businesses by making scrapbooks for clients. Start out by letting your friends and family know about your business. Promote your business on scrapbook forums and craft websites. Get creative. You can advertise wedding scrapbooks at a bridal show or promote holiday-themed scrapbooks at craft stores around the holidays. You can also sell pre-made pages and books online through sites such as Etsy or eBay.
Join a Direct Sales Group
If you prefer to work under the umbrella of a larger corporation, consider working in direct sales for a scrapbooking company. With this type of company, you'll host home parties where you make scrapbook projects and receive a commission on all your sales. These companies typically have a small initial investment of around $100 for supplies, which include scrapbook pages, order forms, stickers, twine and trim.