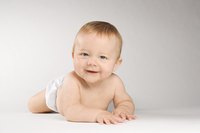 Most parents think their child is the most beautiful baby in the world. In some cases, a big-name talent agency might agree and sign their baby to a modeling contract. Brooke Shields and Jodie Foster are celebrities who began their careers as children hawking soap and suntan lotion in front of the cameras. While not all children will become famous, there are several steps to consider if you are convinced your child can make it in the competitive world of modeling.
Photograph your child on the floor in front of a simple, clean background. Create a portfolio of candid shots of your baby in diapers or simple clothing. Remove props, toys, bow, extraneous attire or jewelry. Talent agents don't want to see frilly clothing, messy faces or anything distracting in the photograph, nor do they want to see professional portraits at this point, according to Jessica Hartshorn, Senior Lifestyle Editor for American Baby Magazine.
Select two or three color photographs for submission. Write your child's name, age, date of birth, eye and hair color and weight, as well as your telephone number on the back of each photograph.
Find reputable representation. Search online for an agent or manager that accepts submission, then send your child's photographs to the agencies you are interested in pursuing. Do not send money to any agent asking for payment up front. Reputable agencies never ask for money; they receive payment from contracts between you and the advertiser.
Be patient and persistent. Continue to send pictures out until you get an appointment to bring your child in for a meeting. Don't take rejection personally. It may take weeks to hear back from an agency if they are interested.
Show up to your child's casting early to reduce your stress level, which can affect your child's mood. Be courteous to everyone at the stage or studio. Agents remember pleasant, considerate parents and children.