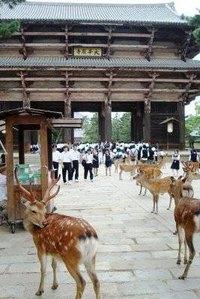 Nara, Japan, is known for its many temples, including Todaiji, which houses the largest statue of Buddha in the world. A bonus for animal lovers who visit Nara are the 1,200 enthusiastically friendly deer that roam freely around the city, particularly in Nara Park. Deer are regarded as messengers of the gods and sacred animal protectors of the city. Schoolchildren and visitors enjoy feeding the deer special deer cookies, or shika senbei in Japanese.
Travel to an area where the deer gather in large hoards and expect to be fed by people. This will increase your chances of finding a shika senbei vendor.
Purchase a stack of shika senbei and break the cookies in half. They are rather large and can go quickly if handed out whole.
Offer the cookies to the deer, but be prepared for them to swarm you. The deer can get aggressive when they're competing for their share of the cookies. They may nudge you or even nip at your arms.
If you'd rather not get harassed, don't feed the deer---watch someone else do it. You can still get up close to the deer and even pet them, but they will generally leave you alone if they see that you are cookie-less.