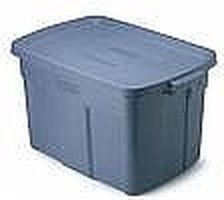 If you are in need of a divided recycle bin you can make one easily for yourself. It just takes a few minutes and you can set up your own recycling center that doesn't look like a garbage can alley in your kitchen or designated space. I am not handy with power tools, so having my husband cut a few pieces of plywood to fit my rectangular plastic bin just took him a few minutes. If you don't have a handy husband, you can have your big box home store cut them for you, just provide the measurements.
Things You'll Need
35-gallon plastic latch lid bin

plywood
circular saw or have it cut for you

polyurethane
Purchase a standard 35-gallon plastic latch lid storage container in a color that suits your décor and taste. They measure 32.5''L x 19.75''W x 18.63''H and you can divide it into two different sections or even three. I prefer three sections to get the most benefit per container. If you are dividing it in two sections you would have 16.25 " in both compartments for recycling. If you divide the container in three sections you would have 10.8" per compartment. The three-sectioned container needs emptying more often but you can recycle three different items easily. If you want to purchase a different sized plastic container, make sure you keep the measurements so that you can make your section dividers easily.

The 35-gallon container is 18.63" high and 19.75" deep or in width, this allows you to know the measurement for the plywood you will need cut to slide snugly into the container. I would have my board cut 18" by 19 and ¾" from my local big box home store or your live in handyman. You can then push the board down into the container it should fit tightly. You can use a hammer then tap the corners of the plywood to get the board all the way inside. Leaving .63" off the height of the board will allow you to latch the lid on if you choose to use it. If you want to use the bin as it is, and be able to wash it out regularly, give your plywood planks a couple of coats of polyurethane and let dry well before putting into your bin. You can purchase water-based polyurethane from your local big box home store or any store that sells paint. You can also get it in spray can to make the process quick. The water-based polyurethane dries faster than oil based. This keeps the wood protected from moisture and the water will roll off the sides when you wash it out with your garden hose. You then just wipe dry with a towel.

Set the new recycling container against the wall in your kitchen or wherever you choose to use it. Label the outside of the container with self-adhesive plastic labels that can be purchased in the office supply aisle of most stores. If you have three compartments you will have three different recycle sections, if you chose two sections you would have the container divided in half.

Take time to give your family a lesson in what you want recycled and which compartment is for which item. Make sure to have them wash out any glass or plastic before putting into the bin. You can line each section with its own bag to make for easy clean up if you didn't pre-treat your wood with polyurethane. If you want to recycle more than two or three items, you can make two separate containers. Easy recycling just takes moments to begin and you will be ready to add more items to your list. You can recycle paper, plastic, aluminum and glass easily and this will help the environment by not filling our land fills. Be sure to find out what your local ordinances are for recycling. Be sure to separate the plastic lids from the plastic bottles because if a bottle has the lid it will be tossed aside as the lids are made of a different type of plastic. Rinse out all items prior to putting them in your bin.

Feel proud of yourself for making your own do it yourself compartment recycling bin and save yourself a lot of money. You can proudly fill your bin and teach your family that taking a moment to save our earth is easy to do. This entire project won't take long to complete and can be fun for everyone.
Photo Credit http://images.google.com/imgres?imgurl=http://4.bp.blogspot.com/_tfGC7tOlrdk/SBWEqbfzDUI/AAAAAAAAC84/F3DMqtAxUpU/s400/basic-plastic-bin.png&imgrefurl=http://jdorganizer.blogspot.com/2008/04/containers
Promoted By Zergnet
How to Get Recycling Bins for Free

Getting a recycling bin for free makes it that much easier for those who wish to put their household recycling materials to...

How to Make Recycling Bins

Designer recycling bins with special electronic features such as weight trackers and recycling day reminders may cost as much or more than...

DIY Recycle Bin Rack

Recycling bins are plastic, open-ended boxes that store recyclable goods until the recycling company comes by to pick them up. The bins...