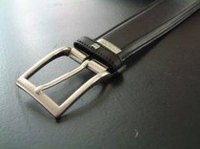 The belt for men is an essential part of most semi-formal and formal dress codes, as well as a key fashion accessory for a man of style. Today's belts come from a variety of designers and styles as well as a multitude of prices ranges. Whether you have to wear your belt for work or dress code, or simply like the look of a belt, you can learn how to wear it properly and complete your outfit.
Identify your occasion. A formal occasion, professional environment, or a semi-formal occasion will always call for a belt. Wear a leather or other classy material for less formal occasions. Select a cloth, or other variety of casual material for daily wear.
Choose a color for your belt. Wear a black belt with every black suit or dark colored pant. Match a brown belt to khaki or other variety of brown. Use your style judgment for other colors like white, navy blue, or greens to ensure that your belt complements your outfit rather than contrasts it. Wear any belt with jeans.
Wrap your belt through all belt loops on your pants, bringing the tail around your waist to the front. Secure you belt by placing the tail end into the buckle and securing with the metal prongs or fastener. Ensure that your belt is tight enough to keep your pants up, but loose enough so as to allow your waist to be uncompressed.