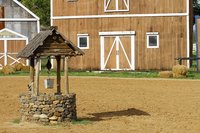 Iron is the fourth most abundant element in the Earth's crust, but it is not evenly distributed. Certain parts of the United States have high concentrations of soil iron that leach into groundwater and cause annoying rust stains on plumbing fixtures and laundry. Iron can also clog sprinklers, faucets, dishwashers and pumps, and impart an unpleasant metallic taste to water and to foods and beverages prepared with the water. Iron in water can be controlled with water treatment.
Forms of Iron
Iron in water typically occurs in two forms, ferrous and ferric. Water with ferrous iron is clear when first drawn but turns red or brown after standing for a while. Water containing ferric iron is already red or brown when first drawn. Laboratory testing can verify the type and amount of iron in your water, Each type of iron requires a different treatment method. Water testing services are available from many county health departments. Private testing laboratories may also offer water tests.
Ferrous Treatment
Ferrous iron, also known as clear-water iron, is completely dissolved in the water. That means it can be removed by a conventional salt-based ion exchange water softener. Although water softeners are designed to remove hardness minerals like calcium and magnesium, most units can also remove ferrous iron in concentrations of up to 5 milligrams of iron per liter of water. Some units can remove twice that amount. But iron will accumulate in the softener resin and must be removed by backwashing. Commercial water softener salt and softener additives are readily available with ingredients that loosen iron deposits in the resin for easier backwash removal.
Ferric Iron
Ferric iron, also called red-water iron, presents a harder challenge because the iron is in the form of minute particles. The most common method for treating water containing ferric iron passes the water through a special iron-oxidizing filter that uses manganese greensand to remove iron from the water. Manganese greensand is a compound made of the sandlike mineral glauconite, coated with manganese oxide. The filter is cleaned periodically with potassium permanganate.
Alternative Treatments
Alternative treatments for ferric iron removal rely on chlorine in the form of sodium or calcium hypochlorite. The chlorine compound is fed into the water upstream from a mixing tank where the iron precipitates out and settles to the bottom. The water then passes through an activated carbon filter.
Dealing With Wells
Your water well may harbor iron-eating bacteria that turn dissolved iron into an organic iron slime that colors the water, leaves red-orange stains on your sinks and toilets, and gives water a nasty musty taste and odor. The organisms don't cause harm to humans but can aggravate an existing iron problem in your water system. Wells with iron bacteria can be disinfected with shock chlorination performed by a licensed well driller or pump installer. Or a homeowner can buy a separate water treatment system that kills the iron bacteria through chlorination followed by settling in a retention tank and activated carbon filtration.