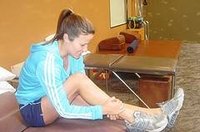 A muscle pull--or strain--occurs when a muscle is stretched or torn because of an accident or from being overused. The damage to a pulled or strained muscle can range from mild to severe. A pulled muscle might result in stiffness, swelling, tenderness, pain and bruising. If symptoms are mild, a pulled muscle can be treated at home.
Place ice on the injured muscle to relieve swelling. Don't let the ice come in direct contact with skin. Wrap the ice in a towel. Keep it on the skin for about 15 minutes. Do this once every hour for the first day of treatment. After that, use an ice pack once every three to four hours.
Rest the injured muscle for 24 hours.
Put heat on the muscle. This can help relax the pulled muscle and relieve tension. Wait at least three days after the injury to do this. If heat is applied too soon, it can make the swelling worse.
Firmly wrap the injured muscle. This can help minimize the swelling. Use air casts, splints or elastic wraps. Ask a physician for the best one to use.
Limit the use of the injured muscle. Rest it for as long as the pain continues. Once the pain subsides, gradually resume regular activities.