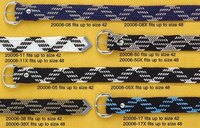 Western-style braided nylon belts are fashionable and relatively quick and simple to make. They are suitable for men or women. You can buy already-braided nylon straps from your local fabric store or online. You only need a few materials and an hour or so to complete this project.
Things You'll Need
Tape measure
1 inch braided nylon strap
Pen cap
Chicago screw
Belt buckle
Lighter
Measure your waist using a tape measure. Buy a braided nylon strap that is half a foot longer than the circumference of your waist.
Loop one end of the strap over the middle bar of the belt buckle so that an inch of strap is on the backside of the length of the belt.
Use a pen cap to separate the braids so you can insert one end of the Chicago screw in the back flap. Do the same to the front of the belt directly opposite the screw on the backside. Insert the other side of the screw on the front and snap the screws together. This will attach the strap to the buckle.
Put the belt on to figure out how much extra belt you want hanging off after securing the belt onto your waist. Cut off the unwanted length.
Remove the belt. Using a lighter, burn off the end to bind the nylon and keep it from fraying.