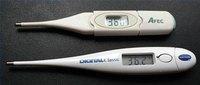 Taking temperatures using an oral (mouth) thermometer is not difficult, especially if you using a digital thermometer. Make sure the tip of the thermometer is wiped clean with an alcohol wipe to sterilize it. Depending on what type of digital thermometer you use, there should be a little button on the top that you touch to clear any numbers that are visible on the screen of the thermometer.
Things You'll Need
Thermometer, digital or regular
Taking the temperature of someone who feels sick is important. An elevated body temperature can indicate an infection someplace in the body. A rising temperature can be a serious indication of an infection brewing in the body
Make sure that the person has not consumed a hot or cold drink of any type or has eaten hot food in the past half hour. This will cause the temperature reading to not be accurate.
Place the tip of either digital or oral thermometer beneath the tongue on either side, the tip pointing to the rear facing the tonsil area. It is important to place the tip in the correct place to get an accurate reading. Once the thermometer is correctly placed under the tongue wait a few seconds for the digital reading, and three minutes for the clinical thermometer reading.

Make sure that the thermometer is held in place by the patient's lips, tongue or fingers. Have him keep his mouth shut and not to talk. If you are taking a young child's temperature ask him to hold the thermometer in place with one of his fingers, making sure that he does not use his teeth.
Wait a few seconds until you hear a beep from the thermometer. Read the numbers in the thermometer's little window. A reading of anything over 99.5 degrees F is fever.