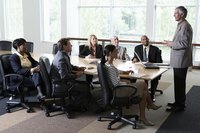 People need someone to follow; it's part of human nature. There is, however, a difference between good leaders and bad. People remember both, either for their great successes or their monumental failures. While there are many different styles of leadership, all great leaders have certain skills that set them apart.
All great leaders possess confidence. When you are confident, people will be more apt to believe what you have to tell them and be willing to do what is needed. Confidence can be a downfall as well. If you possess too much confidence, it can come across as cockiness, and people will ignore you.
You will need to ooze charisma. This is a natural trait for some, but for others it must be learned. Your personality should get people's attention and draw them to you.
Emit an aura of happiness. Smile. Your emotions transfer to those you work with. If you are filled with doom and gloom, those who follow your lead will be, too. Have a positive outlook on the future to bring hope to the people you lead.
Use accountability -- not only to reprimand, but to reward. Recognize people when they do something good, and do so more frequently than reprimanding people because it puts more weight on the consequences for failing. This also lets them know that you notice when they succeed.
Care for your people and empathize with them. This can be easy if you have done their job in the past, but that is not always the case. Learn their about their jobs, lives, hobbies and families, building a bond. People can tell when you genuinely care for them. They will respond to that and show their respect.