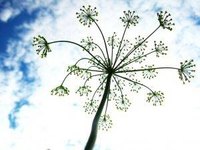 Dill is most commonly used to flavor pickles and fish, but its bright, agreeable flavor also lends itself well to a variety of other foods, especially salad dressings or potato, carrot, green bean or cucumber dishes. Dill is grown both for its fresh green leaves (sometimes called "dill weed") and the seeds, which arrive later in the season.
Things You'll Need
Garden space or a pot
Soil and/or compost
Choose a spot to grow your dill. Dill prefers full sun and rich, well-drained soil. Although dill can grow up to 3 feet tall, its root system is small enough that it can be grown in a pot. A 6-inch diameter pot can hold one or two mature dill plants.
Prepare your soil. Dill can tolerate poor-quality soil, but fertile soil will produce a richer-tasting herb. Amend your soil with organic compost as needed. Before planting dill seed, loosen the soil with a metal rake.
Use a hoe or hand trowel to dig a very shallow trench. In the garden, dill should be planted in rows 12 inches apart. Scatter the seeds in the trench and cover with ¼ inch of soil.
Plant four dill seeds in a 6-inch diameter pot if you are growing dill seeds in a container.
Water thoroughly but gently, so as to not wash the seeds away. Keep moist (but not waterlogged) until germination. Dill seeds should germinate in approximately 7 to 10 days.
Allow sprouts to grow to about 3 inches tall; then thin the row to allow 6 to 9 inches between each plant. In a 6-inch pot, thin the plants down to the two healthiest.
Continue to water as necessary. Dill tolerates drought well, and many herbs improve in flavor if they are allowed to be slightly "thirsty."
Harvest the leaves when the plant is 6 inches high. Once a dill plant puts out a flower, it will stop making leaves, so if you wish to keep harvesting the leaves, pinch back any flower buds that form. If you want the dill plants to form seeds, stop picking the leaves once the flower buds appear. To harvest dill seeds, clip off the seed heads after they have turned brown. Place the seed heads in a paper bag and shake gently to remove the seeds.