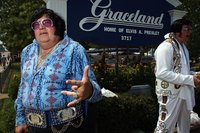 Graceland, the legendary home of Elvis Presley, became a tourist attraction in 1982. Presley lived at the house from 1957 until he died in an upstairs room in 1977. He is buried on the property along with several of his family members. Graceland draws about 500,000 visitors a year. It has established tiers of tour packages to accommodate the casual or serious fan. It should take about 3 hours to complete the tour.
Check the Elvis.com website ahead of time for tickets. Tickets can be purchased in the ticket office across the street from the mansion, but it saves time to get them in advance. The best of the three regular packages is the "Entourage VIP" which includes an audio-guided tour of the mansion and the grounds, Elvis' custom airplanes, his automobile museum and any special exhibits. In 2011, the "Entourage VIP" tour cost $70. The other tours cost $35 or $31 for adults, with discounts for seniors, students and children.
Take the shuttle for the mansion tour. Shuttle guests get a pair of audio headphones, which guide the visitor through the mansion and point out items of interest. The regular tour includes the house, the trophy room, Vernon Presley's office, the racquetball room (which holds many gold records, as well as Elvis' costumes), the outside grounds and the meditation gardens where the graves are. The tour is self-guided so you can stay in any room as long as you want.
Take the shuttle bus back across the street to the museums. There are several souvenir shops and restaurants next to the museums.