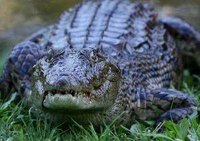 For centuries people have been making products out of animal skins. Crocodile skins are more rough than many other types of skin and must be cleaned in a different way. These skins are considered a soft leather. If you don't take the time to learn how to care for your crocodile handbag, it may start to wear and won't last as long as you expect.
Things You'll Need
Crocodile handbag
Soft rag
Keep your crocodile handbag away from direct sunlight. Try to keep it in the shade when you are outside and never leave it near a window when you get home. The sunlight will dry out the crocodile skin and cause it to crack. It will also lose its beautiful shine.
Use a soft rag to wipe your crocodile handbag if something spills on it. Do this right away because leather soaks up liquids and there is no way to repair a leather handbag if that happens.
Sprinkle talcum powder on the bag if you spill any type of oil or grease on the it. Do this immediately hope it soaks up most of the liquid. Then wipe the powder and oil off with a damp rag and allow it to air dry.
Set your handbag down away from sources of heat. This works the same way as the sunlight in that it drys out your crocodile skin. Once the skin is dried out you cannot restore it.
Leave the crocodile handbag at home on rainy days. If the handbag gets wet and isn't dried off quickly, it will be ruined.