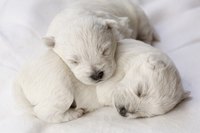 Newborn puppies need warmth, food and hygiene to thrive. They also need veterinary care and early socialization to grow into happy, healthy dogs. Whether the mother rejected the puppies, died or simply cannot be found, fostering abandoned puppies is necessary for their survival.
Provide Warmth and Safety
Puppies younger than 2 weeks old are highly vulnerable to disease, exposure to other animals and changes in temperature. Keep young puppies safe in a large box or small kennel lined with towels to make the bedding soft and cleaning easier. Don't allow the puppies outside or near other animals.
In the first two to three weeks of life, puppies cannot regulate their own body temperature. A warm water bottle may help the puppies stay warm. You can use a heating pad on low, just make sure the cords are out of your puppies reach. Place the heating pad under half of the bedding so the puppies can move away from it if they become too warm.
The temperature should be at 85 degrees Fahrenheit until the puppies are 2 weeks old. You can lower the temperature to 80 degrees when the puppies are between 2 and 3 weeks old. At 4 weeks of age, the puppies should be comfortable at 75 degrees Fahrenheit.
Feeding the Puppies
You can use canine milk replacer and either a bottle or a syringe to feed your puppies. Milk replacer typically comes in powdered form and must be mixed with water. Keep the milk around 100 degrees Fahrenheit. It should feel slightly warm on the inside of your wrist. Do not store the milk for more than 24 hours.
Puppies should eat while either on their bellies or their feet as puppies who feed on their backs may aspirate milk into their lungs. Feed your puppies until their bellies are full but not bloated and watch for signs of hunger, such as crying, or signs of overeating, such as diarrhea.
For the first two weeks of life, the puppies will need to eat every two to three hours. From 2 weeks to 4 weeks old, feedings can happen ever three to four hours.
At 4 weeks old, you can introduce solid food by mixing a high quality puppy food with water or puppy formula to create a soft gruel. Offer the food in a low saucer and place a small amount of the mixture on the puppies' paws or mouths to encourage them to lick it. The puppies will need milk replacer until they are comfortably eating solid food. Gradually decrease the amount of liquid in the mixture until the puppies are eating dry puppy food.
Maintaining Hygiene
Puppies 3 to 4 weeks old and younger will need help eliminating after eating. Rub their abdomens and genitals with a warm, damp paper towel, cloth, cotton ball or baby wipe after feeding to help them urinate and defecate.
You should groom the puppies daily. This will allow you to remove any milk, food or feces in their coat, check their health and get them used to being handled. Use a warm, damp cloth and gentle, short motions to clean your puppies, and ensure that they are completely dry when you are done to avoid them becoming chilled.
Providing Health Care
If you found the abandoned puppies, rather than owning the mother or receiving them to foster, you should have a veterinarian check them right away. Put up fliers to find the mother's owner.
If any of your puppies become ill, contact your veterinarian. Signs of illness may include constant crying, persistent vomiting or diarrhea, feeling cold to the touch, reduced activity, reduced nursing or discharge from the eyes or nose.
Between 4 and 6 weeks, your puppies will be ready for their first vaccinations. Talk to your veterinarian about the right vaccination schedule for your area. After 8 weeks old, your puppies may be ready to be spayed or neutered, although many vets have a minimum weight requirement as well. Ask your vet about what's best for your puppy.
Socialization and New Homes
Only handle puppies less than 2 weeks old as much as you must to care for them. After 3 weeks of age, you can begin the socialization process, handling the puppies more often and encouraging others to handle them as well. Limit the puppies' exposure to the outside and other animals until they have had their first vaccinations.
Once they are vaccinated, introduce the puppies to new places and other healthy, vaccinated animals. The more socialized a puppy is, the more confident and friendly he will be as an adult.
Puppies are ready to go to their permanent homes at 8 weeks of age. Start looking for potential puppy parents as soon as possible. Talk to your veterinarian and your local animal rescue to find potential leads.
Make sure anyone who wants to take a puppy home has a good understanding of what it takes to raise a dog. Meet the family and ask about any other pets they may own. Finding the right home for the puppies will give them the best possible life.