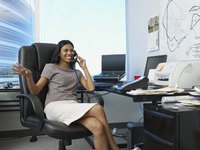 The way you respond to a rejection from a potential grantor can determine if you're closing the book on a failed request or taking advantage of an opportunity to get future money. Professional grant writers know that ignoring a rejection or simply writing a thank-you note decreases the amount of funds they might raise for their organizations in the future.
Review the Rejection
Write down the reasons your grant proposal was turned down as listed in the rejection letter. Some organizations give specific reasons for a rejection, including tips for reapplying. Others will give you no specific reason and simply wish you good luck in the future. Look for any clues in a nonspecific letter, such as, "We're looking for organizations that better align with our goals." This can help you deduce why you were rejected.
Review Your Application
Review your application to determine if you left anything out of your grant proposal. You might find the information was in your proposal and the reviewer missed it. Determine if you could have written your proposal differently to make that information stand out better and what changes you can make when you reapply or when you send similar proposals to other organizations. Have someone else review your application, using any feedback you received in your rejection, and give you her impression of what might have caused the rejection or how to strengthen your next proposal.
Respond With Grace
Send a thank-you note, even if you think this was a one-time opportunity and you have no chance to receive any assistance from this organization. This common courtesy can help your future prospects in unexpected ways. The reviewer might move to another funding organization in the future and remember you, or new funds might have become available since your last request. In your note, ask for specific feedback if you did not receive any and for advice about organizations that might be a better fit for your proposal. This might make the reviewer take a deeper look at your proposal and reconsider it. Or the reviewer might suggest how to reapply or steer you to other organizations or funding sources he knows. Ask to speak with the reviewer by phone for more specific feedback; if the grantor doesn't want to speak with you, he might be more motivated to send specific rejection reasons by email or letter.
Offer Something
To build a stronger relationship with the organization that rejected your proposal, offer to provide a link to its website on your website. Or offer tickets to an upcoming event or expert content or speakers for the organization's newsletter, website or educational events. Even if this doesn't result in funding, it can lead to exposure for your organization and increase your contact with the organization's stakeholders.