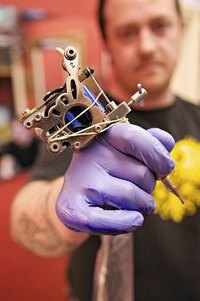 Tattoo equipment must be sterilized after each use to help prevent against the spread of contagious blood borne diseases. One of the most effective sterilization procedures is pressure cooking. Although industrial appliances such as autoclaves are much more effective at sterilization than pressure cookers designed for home use, autoclaves can be very expensive. Here is the proper method of using a pressure cooker to sterilize tattoo equipment.
Things You'll Need
Pressure cooker
Tattoo equipment
Support rack
Wash your tattoo equipment properly and thoroughly. If you can, use an ultrasonic cleaner, which can clear away blood or other debris through cavitation, or the implosion of air bubbles.
Place the support rack inside of your pressure cooker. Make sure your tattoo equipment can easily fit into the pressure cooker. If the equipment is fills up the cooker, set aside some of the equipment and sterilize the rest later. The tattoo equipment should have as little contact with the cooker walls as possible, so the steam and pressure can sterilize all surfaces.
Remove the tattoo equipment and the support rack from the pressure cooker. Pour in an amount of water that will cover the bottom of the pressure cooker 1 1/2 inches to 2 inches high. Place the support rack back in the pressure cooker, checking to see if equipment laid on top of the support rack will stay dry. Place the tattoo equipment on the rack. Put the lid back onto the pressure cooker, leaving the steam release stem weight off, and turn the heat to high.
When steam begins spouting out of the pressure cooker's steam release stem, place the weight onto the steam release stem so that steam can only release at 20 PSI. Let the pressure cooker sit for 30 minutes. Turn down your pressure cooker's heat slightly.
Turn off your pressure cooker after 30 minutes. Let the pressure cooker sit for an hour or two before opening. The pressure needs to dissipate; opening the pressure cooker too quickly can expose you to risk heavy burns. To test, take a fork and lift the weight slightly until you hear a hissing sound. If you do, let the weight back down and let the pressure cooker sit longer. If there is no hissing sound, open the pressure cooker, opening the away from you so that any escaping steam doesn't scald your face or hands.
Set the lid back down. When pressure cooker is nearer to room temperature, move it to a sterile area where your instruments to dry properly in the open air. Let tattoo equipment sit for up to an hour to dry thoroughly.
Use rubber gloves to remove the tattoo equipment from the pressure cooker. Remove the support rack and then pour any excess water out of the pressure cooker. This sterilization process should be repeated one more time for the same set of tattoo equipment to ensure proper sterilization; pressure cookers are less efficient than autoclaves.