Use Permethrin as a key element for scabies treatment. Scabies are microscopic arachnids that burrow into human skin and reproduce. Permethrin cream is formulated to kill scabies mites and stop proliferation in skin. Although one treatment is usually sufficient to rid a body of the parasites, doctors typically recommend a follow-up treatment within a week to ensure against the possibility of subsequent exposure. Use permethrin to treat all members in a household with a scabies victim.
Step 1
Prepare to use permethrin before going to bed, since the cream has to stay on your skin for eight to 14 hours. Bring pajamas with long pants and long sleeves into the bathroom with a fresh pair of socks. Shower and rinse with hot water. Towel dry thoroughly.
Step 2
Spread permethrin cream all over your body. Generously rub the cream into your skin, especially at all bends in the skin, between fingers and at the soles of your feet. Children and seniors should also treat the scalp. Avoid getting permethrin cream in the eyes, nose, mouth and inner genitals.
Step 3
Put on pajamas and socks right after rubbing the cream into your skin. Go straight to bed to avoid rubbing the cream off on anything you may contact. Do not wash the cream off your hands.
Step 4
Clean the house before washing the cream off your skin. Scabies can live for up to four days outside a host body. Everything that has been contacted must be cleaned to prevent a second infestation.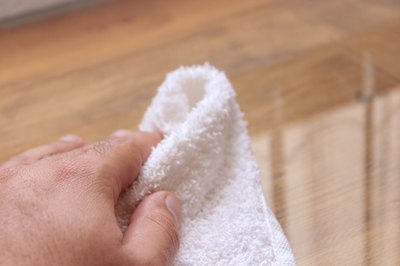 Step 5
Take the sheets, pillowcases, mattress pad, blankets and comforter off the bed you slept on. Gather up all laundry including towels and wash in hot water regardless of tag instructions. Dry laundry in a dryer on high heat.
Step 6
Remove all stuffed animals and throw pillows from inside the house. Place stuffed goods in airtight plastic bags and leave them in a garage or shed for a week.
Step 7
Vacuum the entire house including all floors, furniture and mattresses. Take the bag out of the vacuum cleaner and throw it away.
Step 8
Shower off the permethrin cream, as long as it has been at least eight hours since treatment. Dry off with a freshly laundered towel. Clean the shower and bathroom with disinfectant.