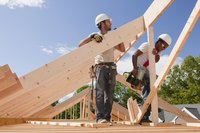 Labor costs have a major impact on a business. For some small-business owners, trimming labor costs even a little turns a loss into a profit. Practically speaking, you can't have a workforce of all minimum-wage employees unless you want to constantly have to replenish your workforce. Therefore, it is important to consider several cost-reduction strategies.
Lay Off Workers
One of the simplest and quickest ways to cut labor is to lay people off. Every employee you drop saves you a good chunk of money. However, a strategic approach is important when layoffs are necessary. A layoff should cut positions that provide little tangible return to the company. A random cut of workers may eliminate jobs and people that contribute favorably to the bottom line. Carefully analyze each worker and his contributions. If you lay off talented workers that wind up at competing companies, your short-term savings could lead to long-term limitations when conditions improve. You also need to communicate well with laid off workers and those left behind to minimize the lasting effect on morale. Avoid perpetual cuts. Make it a one-time workforce reduction.
Reorganize the Organization
A restructure, with or without a layoff, is another way to reduce costs and set up for the long-term. A flatter organize often needs less mid-level management, which could lower your salary structure. You also can improve the value you get from each employee by expanding job roles and cross-training workers to perform multiple roles. The more specialized your workforce, the more you pay for it. With more versatile employees, it may take fewer people to deliver the same production. Plus, as you bring in new workers, you can offer lower salaries. For this strategy to work, the jobs must not involve a high-degree of technical competency that goes beyond the typical employee's background.
Rework the Salary Schedule
If you don't way to lay people off, a restructure of the compensation system may accomplish a similar purpose. In some cases, worker salaries escalate faster than the marketplace dictates. Also, a role that was once hard to fill may now have an ample supply of workers. For these reasons, you could reset the salary schedule, effectively cutting the income of some or all of your employees. A strategic approach makes more sense than an across-the-board reduction of 10 or 20 percent of salaries. You must communicate your motives with the affected employees to mitigate the possibility of defectors. Let workers know that an economic downturn or lost clients were the driving forces, and you wanted to avoid layoffs. Note a plan to review salaries in the future when feasible.
Implement Time-Off Programs
States with tight budgets often used voluntary time-off programs to control labor costs. A VTO program allows employees to take a certain amount of unpaid time away each year beyond vacation pay. The worker accepts a pay hit in exchange for extra vacation time. If a volunteer program won't cut labor costs enough, a forced time-off program is an option as well. Rather than cut any one position, rotate time off by division or department to systematically trim labor costs.