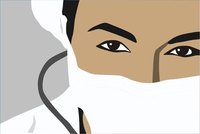 Genital herpes is a sexually transmitted infection usually caused by the herpes simplex type 2 virus. This is not to be confused with the herpes simplex type 1 virus, which causes cold sores on and around the mouth and lips. There are no herpes symptoms while an individual is not having an outbreak. When an outbreak occurs, however, the symptoms include itchy and burning open sores that ooze a clear liquid. Individuals with herpes can generally expect an outbreak about once every two months. It is important not to scratch or pick at herpes sores because you could risk spreading the infection to another part of your body or to others. Instead of picking at the sores, there are other ways to ease itching without risking an infection.
Things You'll Need
Organic cotton underwear
Cold compress
Prescription herpes medication
Wear white, organic cotton underwear. White underwear is free of dyes and cotton absorbs moisture better than synthetic fibers. You can purchase organic cotton underwear at a natural clothing store or online (see Resources).
Wear loose clothing. Clothing like tight jeans or pants with high inseams can rub against your sores, making walking and other daily activities unbearable. Try to wear loose-fitting pants or dresses to prevent chafing and rubbing.
Take cool baths. Your sores may become very hot and itchy, especially when the temperature goes up. Remedy this by sitting in a cool bath for at least 15 minutes per night. You do not have to fill the bathtub up all the way. Instead, fill the tub only a few inches, just enough to cover your sores. Sit in the tub until your sores no longer itch.
Hold a cold compress on the sores. If your sores are itching unbearably, place a cold compress on each itching sore for at least 10 minutes. Your sores may sting for a minute, but the pain and itchiness should subside.
Take prescription herpes medication. Your doctor may prescribe you prescription herpes medication if your outbreaks are severe or frequent. These medications will help stop the length of time that outbreaks occur and may make them less severe. Usually your doctor will advise you to start taking the medicine at the first sign of an outbreak and to stop taking the medication when the outbreak has subsided.