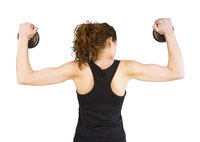 Body fat can pool in the most awkward places and your armpit area is no exception. You want to lose the bulge fast, but since you can't simply spot-reduce a trouble area, you have to focus on over-all weight-loss by following a dedicated diet and exercise plan. Make the effort on a daily basis and you'll achieve your goal.
Incorporate weight training into your workout to tone and strengthen your muscles and boost your metabolism. Perform upper and lower body strength-training exercises using barbells, kettlebells, dumbbells or your own body weight. Tighten the muscles around your armpits with flyes, pushups, rows, lat pulldowns, assisted pullups and side tri rises.
Get at least 30 to 45 minutes of moderately-intense aerobic exercise daily. A cardio workout that gets your heart pumping will boost your daily calorie burn, helping you to achieve your weight loss goals. Jogging, aerobics, brisk walking, cycling and swimming are all effective cardio workouts. Split your cardio activities into at least three,10-minute chunks if time is an issue.
Consume a healthy, nutrient-dense diet that will fuel your workouts. Eat balanced meals that contain a mix of carbs, proteins and healthy fats. Practice portion control at your main meals of the day and snack on healthy treats like nuts and fruit in between. Use an online tool to calculate the number of calories you can consume daily to lose weight. You'll need to enter your age, height, weight, gender and activity level into the tool to get your results.