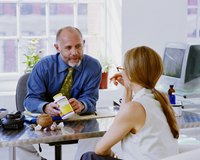 If you are interested in pursuing a career as a certified nutrition counselor, you will need a number of different measures to achieve your certification. Once your certification is complete, you will be prepared to help people develop better eating practices, achieve weight-maintenance goals, develop nutritional food plans, and to help people live a healthy lifestyle. The steps to getting your nutrition counseling certification are simple.
Complete your coursework for your high school diploma, or get a general equivalency diploma; many nutrition counseling certification programs require this prerequisite.
Review the law regarding the requirements for becoming a registered nutritionist in your state by visiting the website of the American Dietetic Association. Map your career path accordingly.
Further your understanding of the human body and nutritional requirements by getting an associate's, bachelor's, or master's degree in nutrition. Although degrees are not required in all states for certification as a nutritional counselor, the more knowledgeable you are, the better prepared you will be for the certification exam, and some states require that you have a bachelor's degree.
Complete a 900-hour internship required in order to gain experience in the field of nutrition. Follow up your completed coursework and internship by completing any necessary state licensure and registration requirements. Complete the American Dietetic Association requirements, the program accredited by the Commission on Dietetic Registration, as an alternative to the 900-hour internship, if available in your state.
Visit the American Fitness Professionals and Associates website to enroll in the nutrition counseling certification program. Fill out the electronic enrollment application, pay the enrollment fee, and assess all of the program materials once they are received by you. Complete all of the program offerings in a three-month time period, and take the 200-question nutrition counseling certification test.
Take the additional certification exam offered by the Academy of Nutrition and Dietetics to become a Registered Dietitian. Once registered, complete the 75-hour course work requirement every five years to maintain your status.