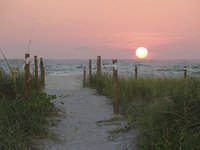 Whether you're planning a seaside retreat, a sailing expedition or a spring break adventure, Florida's Captiva Island beckons to beachgoers looking to escape the crowds in other parts of the state. Captiva and Sanibel islands, which are just off the coast of southwest Florida, are separated by a small strait, making it easy to hop between the two islands. Travel + Leisure named Captiva a top adventure destination among its "24 Trips You'll Want to Plan Right Now" in 2009 for the annual sailing intensive hosted there. But no matter what activities are on your itinerary, there are several ways to reach Captiva from the mainland.
Travel by Air
Southwest Florida International Airport in Fort Myers is the closest major airport to Captiva Island. Other accessible airports include those in Port Charlotte, Tampa and Sarasota. The area's peak tourist season is in the winter and spring, from February to May. If you fly into Fort Myers you can reserve an airport taxi-limo service to transport you the rest of the way to the island. Companies such as Palm-Air Transportation offer one-way or round-trip tickets. They charge flat rates per three-passenger vehicle for every trip, and visitors should make bookings in advance. Car seats are available free of charge.
Travel by Car
If you prefer your own transportation or if you fly into one of the other airports, you can drive a car to Captiva Island. It takes about one hour to reach Captiva from the Fort Myers airport. The islands are located off Exit 131 on Interstate 75, on the Gulf Coast west of Fort Myers. Because only Sanibel is connected to the mainland, you have to go through this island first, driving north through Sanibel along the Sanibel-Captiva Road, also known as San-Cap Road. You'll finally reach Captiva by crossing the Blind Pass, which connects the two islands. Rentals are available at the airport, and many visitors bring cars to the island, so be cautious of traffic -- especially during peak travel times. There is a toll for crossing the causeway from the mainland to Sanibel Island.
Travel by Boat
Taking a water route is an option if you're staying on one of the neighboring islands, such as Pine Island or North Captiva Island. Island Girl Charters is a five-vessel charter company based in the Pineland Marina on Pine Island. The company offers transportation to and from the Gulf Coast barrier islands, including Captiva. Daily water taxis operate year-round, and private charters are available. Reservations are strongly recommended. Book online for trips more than 24 hours in advance, or call the Island Girl Charters office for more urgent requests.
Two-Wheeled Travel
If you're fit and eager, you can ride a bike to Captiva. In fact, it's encouraged. Residents of Captiva and Sanibel are in favor of green transportation to combat the heavy toll of squeezing many annual visitors onto two small spits of sand. You can start from the mainland, pedaling over the causeway from Fort Myers, or just bike up from Sanibel. Although you can find well-maintained bike paths on Sanibel, cyclists share the public roads with vehicles as you head north. Cyclists should exercise caution and be sure to pay extra attention to the rules of the road when navigating the island, especially on Captiva's main road.