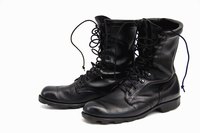 Gaiters are protective over-the-shoe accessories that come in handy during outdoor activities, when moisture, snow or pests might find their way under your pant leg and into your socks. Whether you're walking through snake territory or simply some tall grass, gaiters keep out unwanted elements by fitting easily and securely over hiking shoes, socks, and pants. Make sure that you're wearing your pair of gaiters correctly.
Things You'll Need
Hiking boots or athletic shoes
Slip on a gaiter over each hiking boot or athletic shoe, placing your toes in first as you would to put on a pair of socks. Pull up tall gaiters so that they rest tightly around the leg just above the calf. For shorter pairs, make sure they cover the hem of your pants or your legs a couple inches above the ankle.
Ensure that the gaiter fits tightly around the leg at the top to prevent anything from entering your pants.
Hook the gaiter strap onto the row of laces closest to the toes on your boots or shoes.
Pull the back strap over the heel of your boot or shoe, and zip up the gaiter to secure it firmly around your shoe and leg before heading out on your adventure.