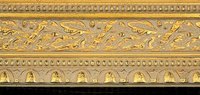 Crown molding is the finishing touch to any room. The simplest crown molding will add elegance and sophistication to an otherwise basic home layout. But crown molding can also get expensive depending on how elaborate it is and the width. Luckily there is a way to take basic thin crown molding and make it look like a wide decorative crown molding instead. Here is how to make cheap crown molding look expensive.
Things You'll Need
Enough crown molding to go around a room twice
Miter saw to cut corners of crown molding
First measure the entire circumference of your room to see how many feet of crown molding you need to purchase. If your room already has crown molding then you only need to buy enough to circle the room once. If the room has no crown molding, you need to purchase enough to circle the room twice.
Go to the home improvement store and purchase your crown molding. It can be as decorative or as plain as you like, but it does not need to be more than about 2" to 3" wide.
If your room already has crown molding skip to step 4. If not, then you will need to apply crown molding all the way around the room as close to the ceiling as possible using a nail gun. You will need to use a miter saw to cut the corner edges to fit.
Next measure a distance of 4" to 5" down from the crown molding. You will need to mark this all the way around the room. It's easy if you can find an object or index card that is the correct distance and use that as a template.
Apply a second circle of crown molding with the nail gun aligning the top edge with the line that you just marked in step 4.
Paint both crown moldings and the empty space in between them white. Let paint dry and apply a second coat if necessary.
The result is an optical illusion that makes it appear as if there is one very large piece of crown molding surrounding the room.